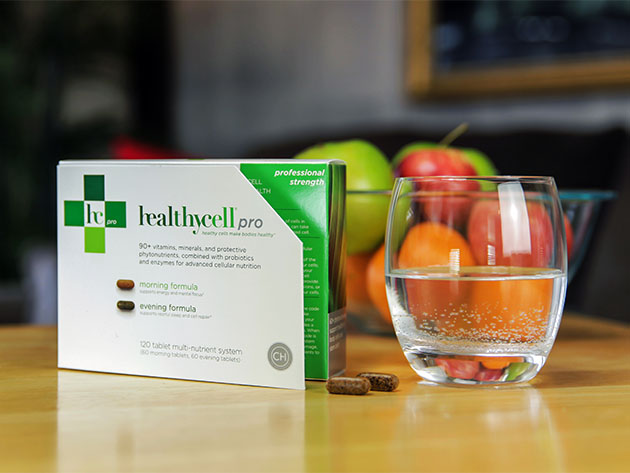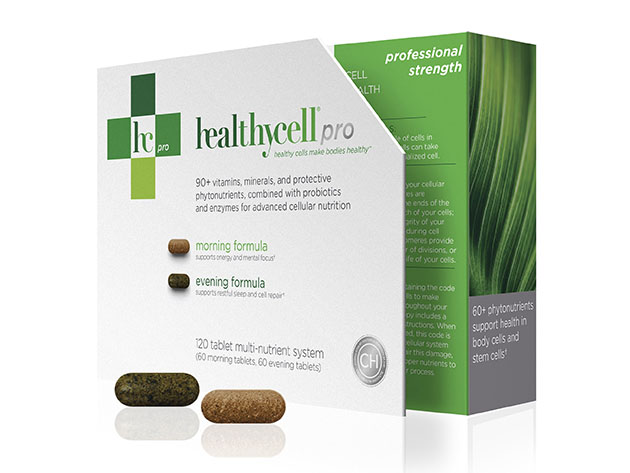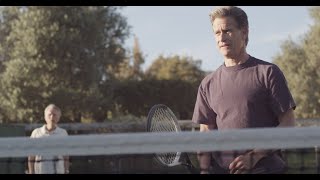 Healthycell® Pro AM/PM Cell Health System
by HealthyCell
With 90+Phytonutrients + 120 Tablets, This Health System Boosts Your Energy, Improves Sleep, & More
Description
HealthyCell Pro AM/PM Cell Health & Anti-Aging System is the only multi-nutrient system that impacts the "building block" of the body – the cell – to optimize quality of life and healthspan. It contains the essential vitamins and minerals from the most bioavailable sources to replace the need for a multivitamin.

Formulated by Nobel Prize Nominee and leading stem cell researcher, Dr. Vincent Giampapa MD, each tablet contains targeted complexes formulated to support key elements of cell health. Complete with 90+ phytonutrients that impact different aspects of cell health, this supplement also features probiotics and enzymes to boost nutrient absorption and 24-hour nutrition cycle. This provides your body with the right ingredients at the right times to improve sleep, boost energy, and sharpen focus.


Support healthy aging w/ essential vitamins, minerals, antioxidants & phytonutrients for cell health
Boost energy, sharpen focus, improve sleep --- backed by clinical study results
University clinical study showed improved inflammatory profile & decreased DNA damage
24-hour nutrition cycle wi/ unique AM & PM formulas to provide the right nutrients at the right times
GI support w/ probiotics & enzymes to enhance digestion
Note: Customers must be 18 years old+ to purchase
Morning Formula
The Healthycell® pro morning formula contains key ingredients that support optimal cell function, energy, and focus, including: B12 (methylcobalamin), B6, Gotu kola leaf, Taurine, L-tyrosine, and Quercetin dihydrate.
Evening Formula
The Healthycell pro evening formula contains key ingredients that enhance the restorative activity your cells perform at night, support detoxification, and promote restful sleep, including Magnesium, 5HTP, Herbal sleep blend (passion flower, chamomile flower, lemon balm), Jujube seed extract, Valerian root extract, and Melatonin.
Specs
Specs
Daily servings: 30 (2 tablets in AM, 2 tablets in PM)
Check ingredients here
Supports key elements of cell health
90+ phytonutrients
Probiotics & enzymes to boost nutrient absorption
24-Hour Nutrirtion Cycle
Independently tested ingredients
Vegetarian with plant-based nutrients
No fish, shellfish, tree nuts, wheat, artificial preservatives, colors, or flavors
Gluten-free & soy-free
Independently cleared for contaminants like heavy metals & pesticides
Made in the USA
Manufacturer's 30-day warranty
Includes
Healthycell® Pro AM/PM Cell Health System (120 Tablets)
Shipping
Ships to US
Expected Delivery: Dec 9 - Dec 12